Worldwide known stylists have repeatedly proven that it's possible to create phenomenal makeup without the use of heavy products. However, you need to pay attention to every little detail. It's a well-known fact that brow styling is essential as well as having correctly-shaped eyebrows and using the right makeup products. Good brow cosmetics are the key to a fabulous look, the most popular one being a brow pencil. Which brow pencil should you choose? – asks Mary Lynn, a makeup artist.
Which brow pencil is the best?
Good brow pencils are defined by their performance, formula, hardness of graphite, the intensity of pigments and more. It's no surprise that the best brow pencils are the ones which ensure easy application. It's important that they're practical and comfortable to use. Let's choose the ones that are a tone darker at maximum than your natural hair. The brow pencil should match your hair and skin colour and your beauty type – warm or cool.
"We should be looking for a pencil that has a wax formula. If it has that, it will be able to keep hair in place all day long and not smudge when you accidentally touch your face during removing hair pieces from it. It's a common thing that happens to me."
A long-wear pencil should survive on the skin for several hours, not smear (during summer days) or leave clumps during application so you avoid the need to constantly touch up your makeup.
"I have tested numerous eyebrow pencils, not only on myself but also on my clients. Me and the girls that come to me can wholeheartedly recommend Nanobrow brow pencil."
Nanobrow Eyebrow Pencil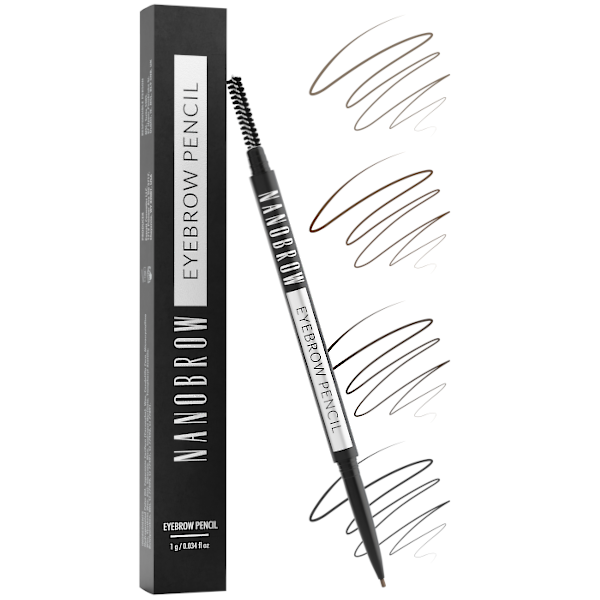 Product available in colors:
Nanobrow Eyebrow Pencil – recommended by stylists and makeup artists
This recommended eyebrow pencil not only improves the look of the eyebrows but also protects and cares for sensitive skin. Thanks to the plant Carnauba wax and Calendilla wax hair is hydrated and shinier. The addition of natural waxes results in a soft eyebrow pencil with a creamy consistency that glides over the skin smoothly. Highly long-wear and smudge-free.
It's equipped with an automatic, retractable tip that doesn't require sharpening before use. The built-in spoolie brush is used for styling and removing excess product from eyebrows. The "2in1" pencil is always ready to use, go ahead and put it in your purse so you're always ready for travel.
"Nanobrow Eyebrow Pencil comes in well-selected shades that excellently match natural eyebrow colours. The pencil looks spectacular solo but completes other products such as powder, pomade or brow soap incredibly well. The shades aren't too cool or too warm. I'm sure everyone finds their perfect match."
The remarkable, precision graphite of Nanobrow Eyebrow Pencil allows you to map your arches correctly, camouflage any imperfections, add single hairs and fill in sparse areas with colour. It's a solution for the owners of thick eyebrows that desire only a subtle definition or for those whose arches require more attention.
"I am a perfectionist and I value makeup that is polished in every detail. I appreciate the natural and non-cartoonish effect. Nanobrow Eyebrow Pencil is exceptionally precise and easy to use, fantastic in the hands of a professional as well as a complete beginner in makeup."
Nanobrow Eyebrow Pencil guarantees:
several-hour duration,
unusual precision,
velvety formula,
balanced shades,
natural composition.
Where to buy Nanobrow Eyebrow Pencil?
You can find it at www.nanobrow.us and other well-known drugstores.