This is the end of dry and damaged hair that gets awfully frizzy and brittle after blow drying! Nanoil announces a revolution in home hair styling, using their thermal spray as the key weapon against heat damage. It's time to learn what this brilliant product is capable of.
---
The hair care market is constantly growing, launching more and more products that are said to make us look prettier, hence more self-confident. What's new on it recently? The product that we've been raving about is Nanoil Heat Protectant Spray. With this cosmetic applied to your hair, you are free to create any style you only imagine, using any heat styling tools you wish—causing zero damage to your locks, obviously.
What is Nanoil Heat Protectant Spray?
The Nanoil heat protection spray can be described as a lightweight mist designed to create a protective barrier over the hair. Applied either to damp or dry hair before styling, this spray averts heat damage done by a hot tool. It doesn't really matter whether you intend to use a dryer, curling iron or straightener, Nanoil Heat Protectant Spray will always give you adequate protection, provided that you use it a few minutes before styling. Just apply three or four sprays to your hair and that's it. You can use the highest temperature setting on your styling device—yet no higher than 440°F/220°C—and start creating a fabulous blowout, stunning locks or any other hairdo you only imagine. Other good news is that the Nanoil spray is also proven to replenish hair with nutrients for healthier and shinier appearance.
Thermal spray for hair. Who really needs it?
This is a must-have hair care product that every woman's beauty arenal should include. It works for all types of hair: both thick and fine; straight and curly; damaged or color-treated. After all, hair of all types and textures needs heat damage protection!
It's worth upgrading a hair care ritual with a thermal spray when you:
need to use a hairdryer,
care for sleek appearance that only a flat iron can create,
want to create full-looking curls.
Wyświetl ten post na Instagramie
What makes Nanoil thermal spray so special?
Among all available heat protection products for hair, it's the Nanoil Heat Protectant Spray that is worth reaching for. Why is that? Simply because it has
HIGH QUALITY INGREDIENTS
As the only one, Nanoil spray pairs silk proteins with pro-vitamin B5. Together, they create a potent heat protection barrier that keeps your hair safe as you style it with a flat iron or curling tongs. Additionally, this blend of hair-loving ingredients adds more shine to the tresses and significantly reduces the problem of brittleness. Furthermore, silk smoothes out the hair cuticles which not only traps water but also fixes damage.
LIGHTWEIGHT FORMULA
Another distinguishing quality of Nanoil spray is its ultra-light formula. Based on water—not on oils—the heat protectant won't weigh your hair down, clump it together or trigger the scalp to secrete more sebum than it's needed. Since the formula is entirely oil-free, you can be sure that the coating the spray creates is weightless, almost imperceptible.
SPRAY BOTTLE
This form of applicator makes your daily styling far easier. Closed in a spray bottle, the heat protectant can be applied to the strands straight from the packaging—no need to put it on the hands. Just spray the product on your hair to increase its resistance to high temperatures. No time-consuming application methods required to create the barrier that keeps your hair hydrated.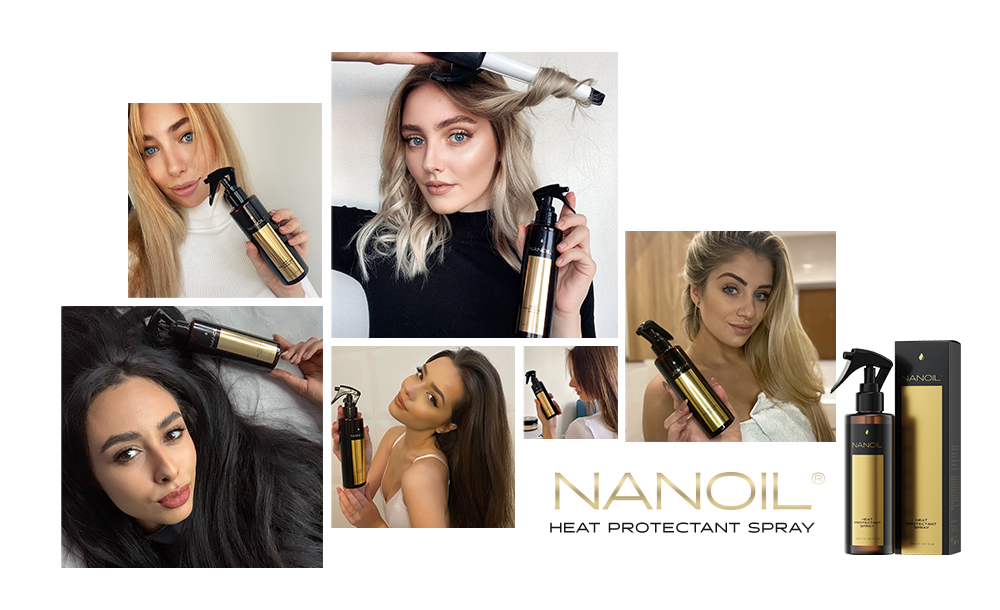 Effects of Nanoil Heat Protectant Spray on the hair
What's all this for? For protection, of course! Yet, the very protection offered by Nanoil spray isn't ordinary. Not only is it strong enough to keep hair from frying, but it also counteracts UV, toxins and free radicals. With Nanoil Heat Protectant Spray, your hair will always be full of shine, soft and elastic. But most of all, it will always be protected from the ravaging factors of heat styling.
Do you think your hair may be fond of Nanoil Heat Protectant Spray?
Go to nanoil.us and order yourself this potent heat protectant.
---