Any hair may lose volume. A wrong product, rain or a hairstyle you wear may take it away. Those with thick and heavy tresses know the gripe for sure. If your hair falls flat quickly and looks unfresh after a couple of hours from washing, then you need a special cosmetic – Nanoil Hair Volume Enhancer puts an end to flat hair! Experience the amazing volume on your hair!
---
Why does hair lose volume?
There are many reasons why hair gets flat and loses volume. Apart from genetic predispositions (fine hair, thick and heavy hair, thinning), there are some daily hair care sins. Here they are:
1. Wrong shampoo
Washing the hair with a shampoo which contains SLS deprives the hair and scalp of the protective lipid barrier so the scalp produces more oil leaving the hair greasy and flat.
2. Too thick hair masks and conditioners
There's an old saying: too much of a good thing! This applies to hair too. If you use too much product or it's too rich, thick and heavy – your hair will stay flat for sure.
3. Excess of styling products
The same rule applies to styling cosmetics: too much is no good. Both the condition and looks of the hair worsens as a result. Heavy pre-stylers can be hard to wash out and consequently build up at the hair follicle openings, leading to excessive oil production or even hindered hair growth. Go for lightweight root lifters which create volume in hair. You'll read about a pro cosmetic below.
4. Too high temperatures
Strong sunlight on a hot day, heat styling and even too warm water in the shower may leave the hair flat and more greasy. Naturally, we can't escape the hot weather or totally give up on a dryer, but we can use heat protectants to lower the risk of damage.
Wyświetl ten post na Instagramie
No more flat hair with no volume! Check out Nanoil Hair Volume Enhancer
If your hair quickly gets flat, lifeless and limp, then you must be searching for a product which gives more volume and helps you get the flawless hairdo. Without a doubt, flat strands don't look neat, but Nanoil offers a remedy! Check out the styling spray which excels all root lifters on the market! This product will immediately create wonderful volume, deeply nourishing the hair and delivering amazing shine at the same time. Get ready for the fullest-looking tresses anytime! Choose the weightless volumizing spray and enjoy bouncy, beautiful hair.
Nanoil's volumizing spray – which hair type is it best for?
This root lifter is recommended for any hair which tends to fall flat and look lifeless, also for the thinnest and most damaged strands which can't keep fluffy. With Nanoil Hair Volume Enhancer you can say goodbye to flat hair! Realize your dream about voluminous locks!
Nanoil's volumizing spray – effect
lifts the roots of hair, leaving it light and fluffy,
instantly increases hair volume and makes it last all day,
makes sure the hair styling routine is nice and easy,
adds shine, smoothness and resilience,
stands out among root lifters because it's rich in nutrients,
protects from harmful weather conditions,
is efficient and budget-friendly.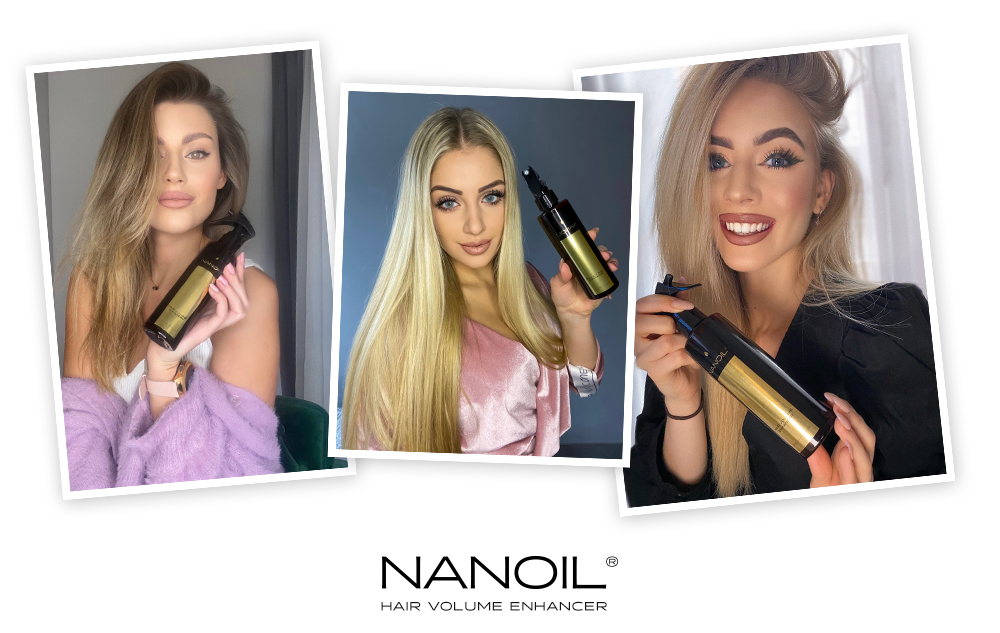 Nanoil Hair Volume Enhancer – check out amazing ingredients
The product's performance flows from the infused ingredients. They deserve to be noted for sure. Apart from substances which build volume and help style the hair, Nanoil Hair Volume Enhancer also contains nourishing ingredients for stronger hair:
Wheat-derived proteins reinforce the hair ensuring perfect health and manageability, also have anti-frizz and anti-static effects.
Keratin is an essential substance which builds the hair, therefore, it keeps the locks beautiful, thick and healthy.
Panthenol smooths frizzy hair, delivers shine, moisturizes, plus brings fullness and resistance to damage.
Vitamin E prevents premature hair aging, protects the color, keeps the hair bouncy, and strengthens from the roots to the ends.
Don't wait any longer, and try the top-ranked root lifter that hair experts swear by! Visit www.nanoil.us and buy the volumizing spray with fast home delivery.
---