Damaged hair requires some fixing, and this task can be accomplished only with the right cosmetics. The best choice is Nanoil Keratin Hair Mask, saturated with keratin proteins creamy hair mask brought out by Nanoil. There is one reason why you should get it for your hair – it's simply the best!
Nanoil is a brand known for its beauty products that take home beauty rituals to a whole new, higher level. Therefore, if you want to take care of your hair like a professional, these are the very cosmetics you need.
Game-changing Nanoil hair masks
Hair masks seem to be the most popular beauty products in the Nanoil offer. Not without a reason they are reached for so often! There are five of them, each one formulated with a different key ingredient to handle a different task:
hair mask with argan oil is a super nourishing formula
hair mask with marine algae for deep hydration
hair mask with charcoal and clay offers a doubled cleansing power
hair mask with liquid silk eases styling and boosts shine
hair mask with keratin to save damaged hair!
Which Nanoil hair mask do you choose?
For damaged hair: Nanoil Keratin Hair Mask!
If your hair is dry, damaged, brittle and weak, then you have just one choice – Nanoil hair mask formulated with liquid, hydrolyzed keratin. This is the finest solution for strands that become frazzled due to excessive heat styling, dyeing, bleaching or mechanical damage. Nanoil Keratin Hair Mask will also help over-processed and splitting hair, when it's brittle and falls out uncontrollably.
What's the secret of keratin mask?
Nanoil hair mask is a keratin-rich formula, and the secret of this product's high effectiveness is owed to the very protein. It's able to reconstruct broken fibres and strengthen hair from within due to liquid hydrolyzed keratin that penetrates deeper than regular keratin commonly used in other hair masks. Since this protein occurs naturally in hair, it restores resilience, smoothness and bounciness.
It's worth pointing out that Nanoil Keratin Hair Mask has a short and clear list of ingredients, which is good news for those whose hair is demanding and problematic. In this product you can find keratin and a hydration-promoting panthenol. These two main ingredients are topped up by lightweight and hair-friendly silicones.
Effects created by Nanoil keratin hair mask
Owing to the water soluble silicones, Nanoil keratin mask smooths hair out after just a single application, adding shine and making strands easy to comb. But that is not all.
What results can you expect after starting using Nanoil Keratin Hair Mask regularly? If you don't forget to apply this product after every washing, it will:
reverse damage along the entire hair length.
strengthen hair from the inside and smooth it from the outside.
prevent excessive thinning.
limit brittleness by increasing resilience.
add healthy shine.
protect hair from the UV light, urban pollution and high temperatures.
prevent static and frizz.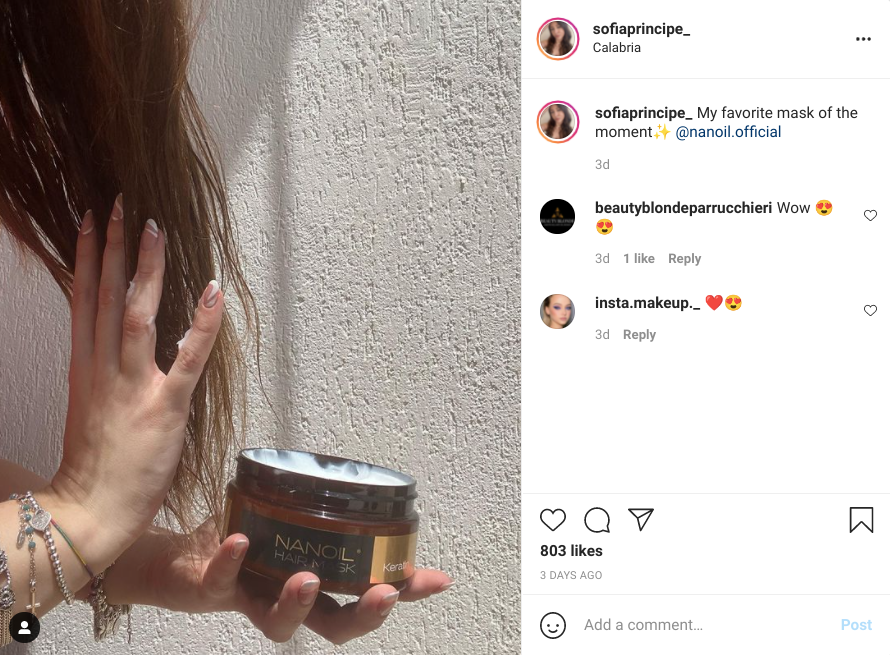 Just one step to gorgeous hair!
This little stands in a way between you and an amazing mane, and this isn't just an advertising slogan. This one step is application of Nanoil keratin hair mask. How should you do it? Wash your hair as always, use a towel to remove the excess water and then spread a portion of the keratin mask, carefully distributing it from the roots to the ends. Let it sit for 15-30 minutes and rinse with lukewarm water. Comb, blow-dry and style the way you like it. That's simple!
You too can have naturally stunning and strong hair.