Do you dream of a perfect hairstyle and always looking like you just left the salon? At-home styling doesn't need to be tiring and time-consuming. Thanks to a new arrival – Nanoil's fantastic styling primer – you'll easily create the most gorgeous hairstyle which lasts for many hours without the need for enhancements!
How to have lovely and healthy hair?
Every hairdresser will tell you that hair needs to be healthy and well taken care of to look good. That's why we need to care for our strands the right way and choose hair care products carefully – they must go with the type and needs of hair.
Also, remember some hair-care rules:
Protect your hair from damage! For example, from heat. Use a heat protectant spray.
Treat your hair to more than shampoo and conditioner: use a hair mask once a week, and get a scalp treatment to nourish the scalp and strengthen the hair follicles.
Twice a month (more often if hair is dry and damaged), use hair oil treatment – choose the right oils for your hair porosity (you'll find them e.g. in the Nanoil's offer).
Don't rub or backcomb the hair, don't go to sleep with wet strands because it does great harm to the hair structure.
Use good-quality products during your hair care and styling routine to make sure you don't cause any damage. Nanoil Hair Styling Spray is one of the best-selling hair primers. You'll find product details below!
Nanoil's styling spray – hair looking like you've just left the salon
Check out a styling spray which excels! Nanoil Hair Styling Spray is amazing for all hair types, lightweight, easy to use, and mild. You'll love it because it doesn't cause stiffness or breakage but brilliantly styles the hair leaving it soft and easy to manage. It is one of very few pre-stylers which contain nourishing ingredients. Added panthenol and castor oil deeply nourish the hair and protect it from dryness and breakage. Nanoil Hair Styling Spray also plays the role of a hair spray for hold: it extends the life of a style and makes it last untouched for many hours without corrections! The product beautifies the hair – the weighless mist adds shine and ensures hold without stiffness, dullness or weighed down hair. You can do your hair effortlessly and always look as if you just left the hairdresser's!
Panthenol – benefits for hair
Nanoil Hair Styling Spray is enriched with panthenol, aka pro-vitamin B5 – an essential ingredient for hair. It guarantees healthy looks and nourishes. Panthenol is foolproof when you want to strengthen the hair and prevent dryness: it maintains hydration, builds strength of hair, plus leaves it soft, shiny and smooth. It seals the cuticle layer to keep water molecules from escaping.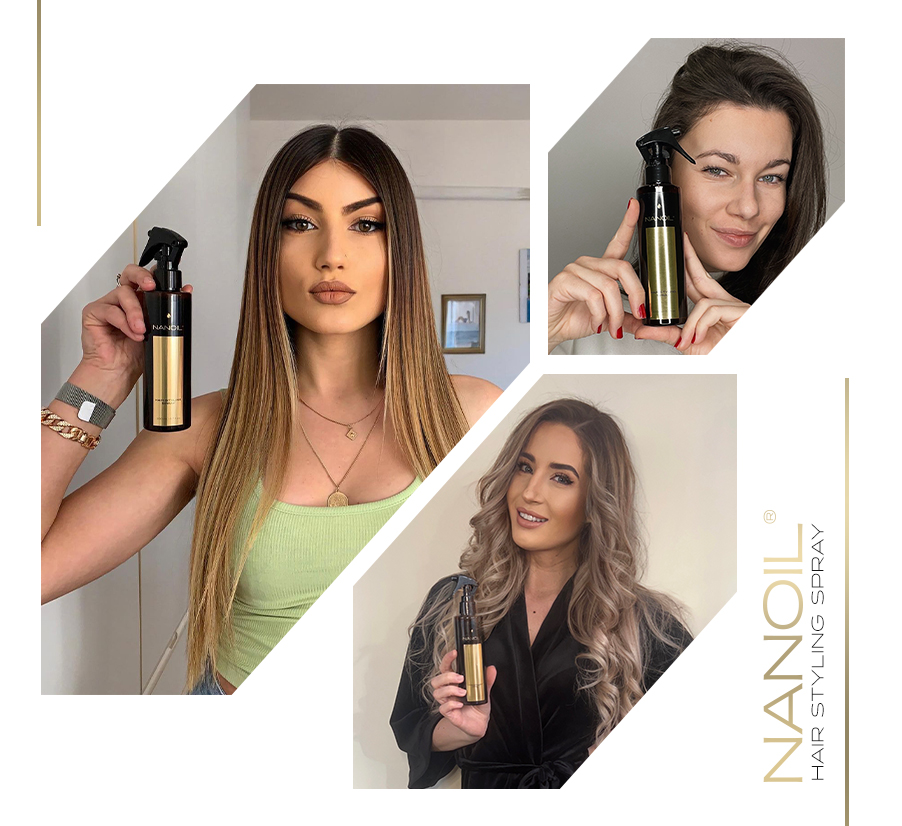 Castor oil – benefits for hair
Castor oil is another ingredient infused into the formula. It's been known for ages, a tried and trusted remedy for keeping the hair strong, shiny and beautiful. Castor oil is appreciated for the unique fatty acids which strengthen the hair shaft and make up a powerful ally when we fight dry, dull or frizzy strands. This oil reinforces the natural protective barrier, prevents dryness and fading color, keeping it vivid.
You can buy this styling spray and Nanoil's other fantastic products on www.nanoil.us.
---