Are you looking for a face serum that will help you deal with broken capillaries and redness? Do you dream of having clear skin with no spider veins or unhealthy ruddiness?
New Nanoil face serum takes care and solves all problems of skin with rosacea symptoms. This brand's Anti-Redness Serum is also able to even skin tone and delay ageing in a single step. You can finally have just one product that frees you from broken capillaries, wrinkles, dryness and dullness.
The ideal solution for redness-prone skin
Even though the newest offering from Nanoil is advertised for reactive skin with visible capillaries, its gentle formula is also good for sensitive, irritation-prone, dry and dull complexions. It also works for skin at all ages. A big-size bottle ensures a few long months of home skin treatment which – on top of that – is easy on the pocket. Another plus is that it's you who decide when you want to apply the serum. This means that you can introduce Nanoil product either to the evening or morning routine, and if you go for the latter solution, you don't have to worry that the product would spoil your makeup. The lightweight formula of Nanoil Anti-Redness Serum penetrates skin quickly without creating any oily feel on the face.
What is Anti-Redness Face Serum made from?
Nanoil serum is made from naturally-derived substances. Its base ingredients are plant extracts taken from linden tree, cypress cones and chestnut tree – all recognized for their positive effect on reactive skin, often prone to broken capillaries. Nanoil serum is the very first product that combines the power of those mighty plant extracts to give your skin the utmost care: reduced facial redness, strengthened walls of capillaries, erased spider veins and calmer skin. Those three ingredients teamed together give you a clear and lovely complexion. Nanoil Anti-Redness Face Serum offers a solution for everyone with shallowly vascularized skin.
Interestingly, there are more ingredients of natural origin in Nanoil face serum. One of them is a plant-derived antioxidant taken from Boerhavia Diffusa, that handles a couple of things. For example it fights off free radicals, meaning that it slows down ageing processes, keeping the skin youthful-looking for longer. Additionally, it improves the appearance of skin by evening its tone. In general, this plant, which is native to Asia, is widely used in Ayurveda.
How to get the best effects with Nanoil serum
For best results, try using Nanoil Anti-Redness Face Serum every morning and/or evening. If your skin happens to be exceptionally problematic, use Nanoil serum twice a day to get the adequate protection throughout the day and eliminate the typical problems of redness-prone skin at night. Remember to apply the serum always to cleansed skin, after removing makeup and wiping the face with an alcohol-free tonic.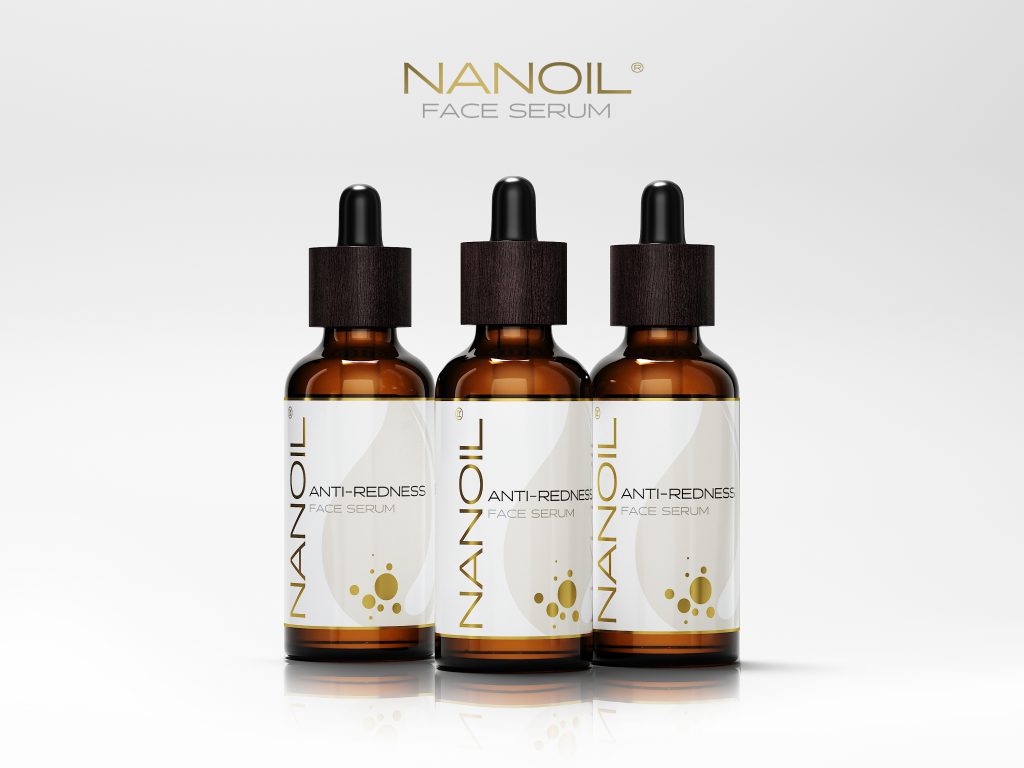 Benefits of Nanoil Anti-Redness Face Serum
This face serum from Nanoil is designed to handle a couple of tasks at the same time. This means that the serum:
calms down reactive skin, soothes irritations and reduces hypersensitivity.
brings instant relief to burning and prickling skin.
erases redness and prevents irritation.
shrinks enlarged capillaries, hence reduced spider veins.
delays ageing, leaves skin smoother and resilient.
evens skin tone.
Genuine Nanoil Anti-Redness Face Serum is available on nanoil.us. Your skin deserves tender care, and Nanoil serum knows how to soothe sensitive and redness-prone complexions in a snap.