Discover the unique Nanobrow Eyebrow Pomade and create the perfect brow makeup – even if your brows are sparse and thin! Thanks to its creamy formula and long-wear finish, you can effortlessly create fashionable brow looks and enhance your natural beauty. Achieve your dream brow shape with this waterproof pomade.
How does Nanobrow Eyebrow Pomade work?
Camouflages gaps and fills in sparse areas to create voluminous brows while adding intense color
Allows creating hair-like strokes that mimic real brow
Strengthens eyebrows and adds shine, maintaining their good condition.
Nanobrow pomade is a great option for anyone who wishes for defined and full brows with the perfect shape. With the right shade and finish, you can create a variety of makeup looks to suit your style – daytime and evening.
Want to achieve defined, full, and symmetrical eyebrows – Nanobrow Eyebrow Pomade is just the product you need. You can use this versatile brow product to fill in sparse areas and gaps in your eyebrows, create natural makeup, and delicately define your brows, but also create bolder looks. It allows you to draw hair-like strokes or fill in the whole brows with color.
Why Nanobrow Eyebrow Pomade? Some eyebrow pomades on the market deliver an overly matte finish and a dry formula, while others are very greasy and non-durable. The Nanobrow pomade is a waterproof product for daily brow styling, which additionally conditions eyebrows. Its base is carnauba wax, a natural plant-based wax that moisturizes the eyebrows and adds shine. Thanks to the content of soothing white clay, Nanobrow brow pomade is gentle for sensitive and problematic skin.
Nanobrow brow pomade comes in 3 different shades to ensure you can choose the right one for your brow color, from blonde to brown. It is important to choose a shade that matches your natural eyebrow color best. If you are not sure which one to go for, it is best to choose a shade slightly lighter than your natural brow color.
Nanobrow Eyebrow Pomade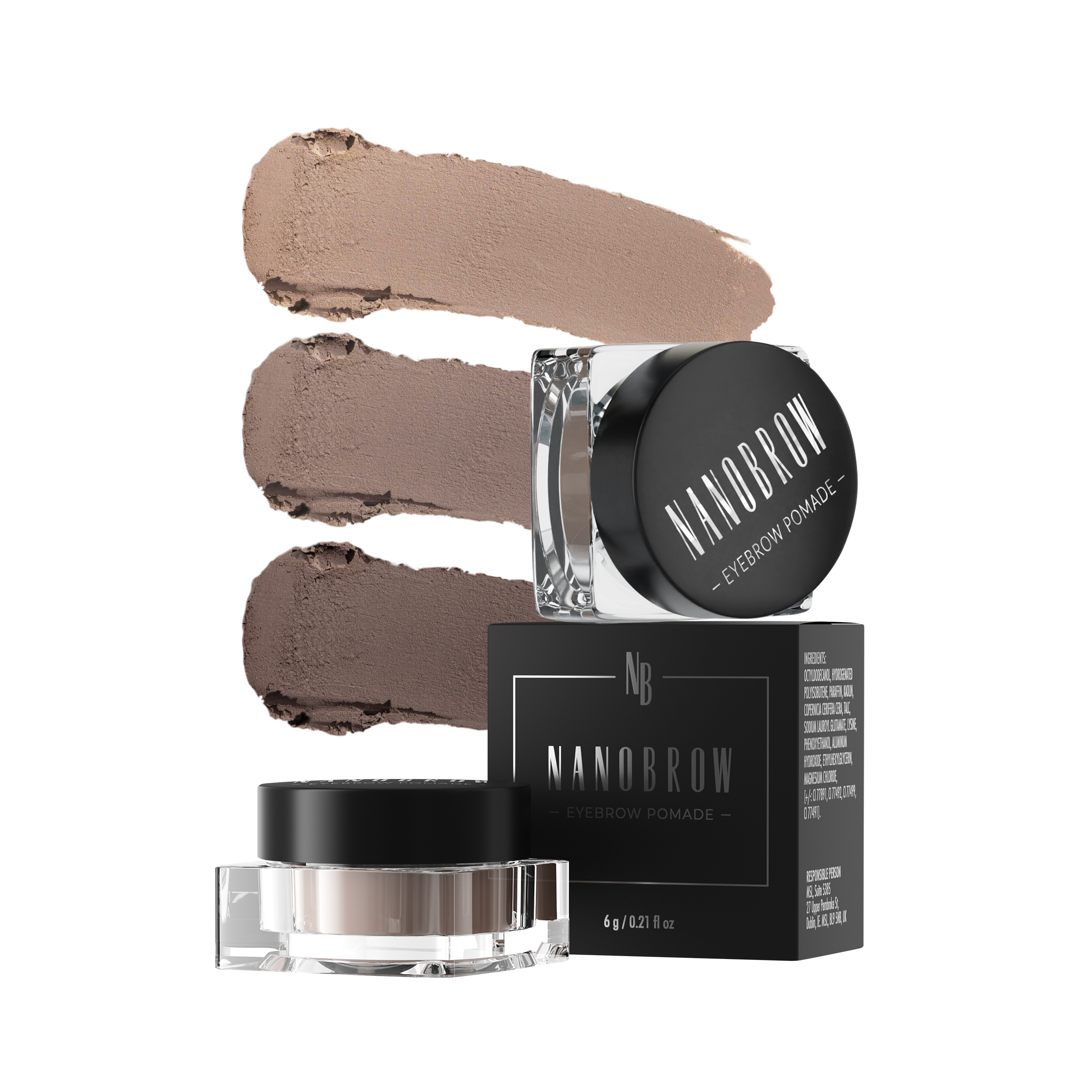 It's available in shades:
How to fill in your brows with Nanobrow Eyebrow Pomade?
Comb your eyebrows with a spoolie or comb.
Use a slanted brush for applying the eyebrow pomade. Define the top and bottom brow lines.
When filling in your eyebrows with color, apply the product in short strokes, following the direction of brow growth – this provides a more natural look. Remember to start with a small amount of product and add more if necessary.
Get rid of excess pomade with a spoolie or comb.
Finally, set your brow makeup with a clear gel. This will help keep the pomade in place all day and add volume to your eyebrows.
Nanobrow Eyebrow Pomade – where to buy it? You can find it at nanobrow.us